You're Already on Zoom. Interest You in a Theodore Talk?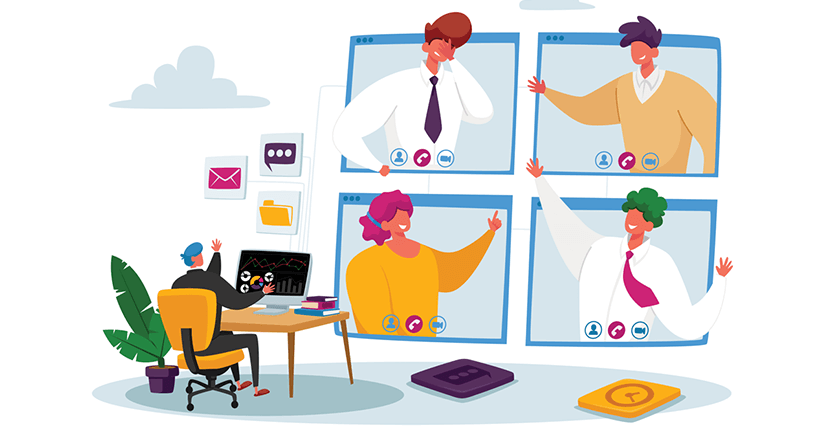 Covid-19 has changed the way a lot of chapters operate. Gone were the social get-togethers, the lunches, the picnics, the bar visits, at least for a while.
Fortunately, our RVC has stepped up and provided Mid-America Mensa with funding for a full Zoom license. This has allowed us to hold our monthly board meetings remotely, as well as our Book Lover SIG. In fact, Zoom has allowed former members to join us from Virginia and Florida.
Even when we aren't living in a pandemic, there are a lot of members of our Local Group who can't make it to in-person events. Our group covers a large area — the better part of Missouri and a chunk of Kansas — making for a lot of isolated members.
With those considerations, I decided to organize a series of lectures that all members could attend, regardless of their location.
Our board approved my proposal to put together a monthly Theodore Talk. Not a TED Talk, which would probably be a copyright violation. Or an Ed Talk, which I thought was quite clever but already being used by a local community college. But a Theodore Talk, inspired by Lawrence, Kan., member Theodore "Ted" Johnson, Emeritus Professor of French at the University of Kansas. Ted has that rare combination of intellect and creativity that spans numerous fields, finding links to subjects one might never consider.
Of course, after the idea comes implementation. What might be of interest to members? We put a notice in our newsletter, Mension. No response. So I decided to select topics I was interested in, starting with our January speaker, Elle Jackson, the first Black author Harlequin has signed to write a series of historical romance novels. Her first book for Harlequin, A Blues Singer to Redeem Him, is set in the period of the Tulsa Massacre. Now, I have never read a romance novel in my life. I'm more of a history/biography reader, with the occasional detective novel or science fiction yarn thrown in. I am curious, though, as a writer and someone who's been single his whole life, how to write romantic fiction.
Perhaps your Local Group would be interested in starting its own series. We'd love for you to attend ours.
Mid-America Mensa's Theodore Talks
Open to all members
Jan. 23, 2:30 p.m. Central
What's Love Got To Do With It? Writing a Harlequin Romance Novel
Elle Jackson, Harlequin's first Black author of historical romance, will discuss her love of writing and writing about love.
Feb. 27, 2:30 p.m. Central
It's a Beautiful Day in the Neighborhood
What kind of neighborhood do you live in? Sirens every night? Trash blowing down the street? Neighbors who don't give you the time of day? How would you like to live in the idyllic neighborhood Mr. Rogers portrayed, with tree-lined streets, neighbors who check in on you, sidewalks that the kids can walk to school on?
Dina Newman, Director of the Center for Neighborhoods at the University of Missouri–Kansas City, will tell you about her efforts to empower neighborhoods throughout Kansas City. Learn what you can do to make your neighborhood a kinder, more livable place.
March 27, 2:30 p.m. Central
National Debt: Why You've Got It All Backward (An Introduction to Modern Monetary Theory)
Everyone knows that politicians' fiscal irresponsibility has produced a national debt cloud that is hovering ominously over future generations. Or has it? Modern Monetary Theory (MMT) is making waves in economic policy circles, offering a new vision of how government debt and deficits work. This talk by Sam Levey, an iPh.D. student in economics and public administration at the University of Missouri–Kansas City, will explain the basics of MMT, explore how it upends the old paradigm in macroeconomics, and discuss how MMT might help to shape a new era of social policy. Register at tinyurl.com/y9wv2648.
April 24, 2:30 p.m. Central
Finding Your Roots at the Midwest Genealogy Center
The Midwest Genealogy Center, located in Independence, Mo., is the largest free-standing public genealogy library in the nation with more than 52,000 square feet of national and international genealogy resources for family history researchers.
Midwest Genealogy Center Manager Cheryl Lang will provide a virtual tour of the library and give an overview of both print and electronic resources freely available to you. Examples will be given of the genealogy of a local member.
May 22, 2:30 p.m. Central
Propaganda and the People: The Rise of the Nazi Party
Perhaps the biggest misconception about Nazi Germany is that the Nazi party came to power in a landslide victory with an overwhelming wave of public support. This talk by Dr. Shelly Cline, Midwest Center for Holocaust Education, will look at the conditions of Germany in the 1920s and 1930s that made Nazism possible. It will explore the propaganda used by the Nazis to gain and sustain the support of the people for their new vison of Germany.
June 26, 2:30 p.m. Central
Social Security — What You Need to Know
This presentation by John Powell, Regional Communications Director at the Social Security Administration Public Affairs Office, will cover key aspects of Social Security retirement and survivor benefits, including eligibility factors, payment calculations, and filing considerations. Medicare eligibility and enrollment rules for those 65 and older will also be discussed.
You must register for each lecture with an email address associated with your Zoom account. If you don't have one, you can sign up for a free Zoom account. For questions, email Brad at TheodoreTalk@mid-america.us.mensa.org.