The Mensa Bulletin
The Mensa Bulletin is the national magazine for members of American Mensa, published 10 times a year with combined issues in April/May and November/December. Our membership dues include a subscription to the Bulletin.
In addition to the member-generated content and photos, each issue includes a "question of the month" in which we ask members to share their thoughts (in 250 words or less) about a general-interest topic like "What invention would you want to cease to exist?" We're posing these questions and more to Mensans — they don't have to be professional writers to contribute, but they do have to be members of Mensa.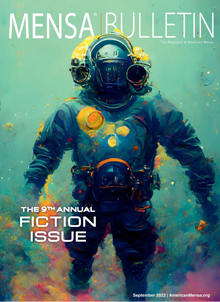 Current members: Access the latest issue of the digital Bulletin.
If you have a business you want to promote to Mensa members, why not advertise in the Mensa Bulletin? If you're a Mensa member, you'll receive 30% off the advertising rates. Learn more about advertising with American Mensa.
If you're having problems viewing the digital edition, please review these compatibility requirements from the software vendor.
What's the Mensa Bulletin all about?
Here is an idea of some of our monthly content and a sample of the articles you can expect: