Meet Spelling Bee Champion and Young Mensan Rodrigo Medinilla
Spelling bee champ, robotics team medalist, 'Genius Junior' finalist: There's not much that Rodrigo can't do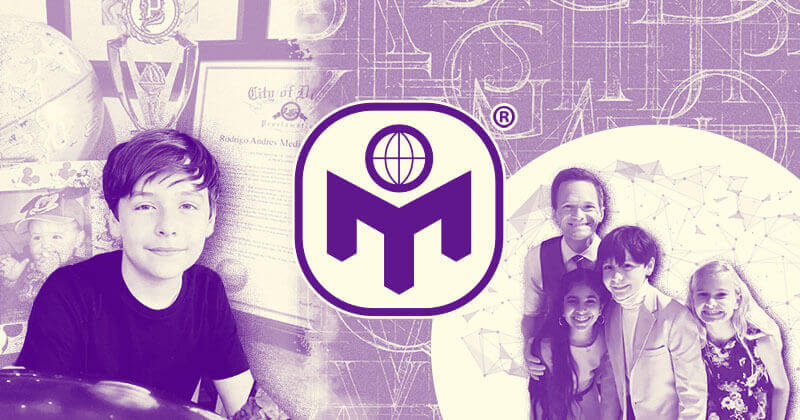 When he was just 2 years old, Rodrigo Andres Medinilla was perfectly articulating his ABCs in both English and Spanish.
Knowing that he was certainly different and far advanced compared to his peers, Rodrigo's mother, Aida Vega-Medinilla, sought help from a county psychologist in Florida when Rodrigo entered kindergarten. It was the guidance given by the counselor and various educators and leaders that led Aida to Mensa, an organization that she said has "opened doors for Rodrigo that maybe I didn't know how to do."
Aida immigrated to Miami from Venezuela, where she was raised, although her family is originally from Cuba. The uncertainty of moving to a new country and then learning of her son's exceptional intelligence was difficult to comprehend. The idea that Rodrigo could potentially join an organization of individuals with his intellect sparked her interest and imagination. She was able to have Rodrigo tested by a psychologist, and at 6 he received his Mensa membership card.
Now a 12-year-old seventh-grader enrolled in college-level courses at Pinecrest Preparatory Middle-High, Rodrigo balances his school work with extracurriculars such as competing on a robotics team, math club, taekwondo, tennis lessons, playing various musical instruments (including the piano, drums, and electric guitar), competing on the occasional television show (Genius Junior in 2017), learning new languages (he speaks three fluently), and now preparing for his next adventure — going for gold at the Scripps National Spelling Bee in May.
Rodrigo's list of accomplishments is indeed impressive and reveals the complexities of a humble kid whose interests are limitless: He prefers '90s rock over '80s and loves Weezer and The Police. We had the opportunity to chat with Rodrigo and his mom about what Mensa means to them, preparing for the Scripps National Spelling Bee, and Rodrigo's constant thirst for knowledge.
Mensa: What do you like to do for fun?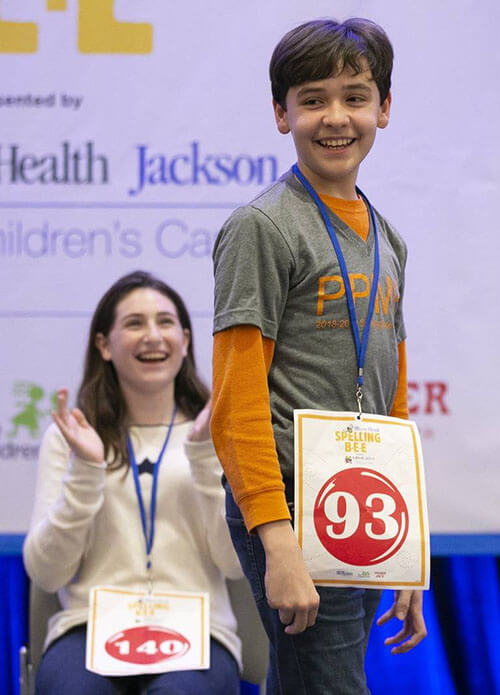 Rodrigo: I love to play video games. I love to read in my free time. I like to read articles on Britannica and Wikipedia. I love to play music on the piano and guitar. I love to make music. I've made some songs before. I love to hang out with my friends and talk with them all the time.
What languages do you speak?
I speak Spanish, English, and I'm fluent, but not a native speaker of Portuguese. I can say some sentences in a whole bunch of other languages that I don't think I can list right now. I love to learn languages and study linguistics. I love learning about how languages work and how culture influences languages. This relates to what I'm doing now and to study for the Scripps National Spelling Bee because it contains a lot of linguistics. So it's helped me a lot, especially my knowledge of how language works and the orthography and stuff.
What is your process for remembering difficult words for spelling bee competitions?
I read the dictionary a lot. I like to find words that are interesting and study them. I also study etymology and the orthography of the languages that the words come from. I practice the words that have already appeared at the spelling bee with my mom. What I do is, if I get a word wrong or I find it interesting or hard, I'll put it on my mirror. I'll draw it with an Expo dry-erase marker.
Rodrigo's mom, Aida: Every time he goes to the bathroom he can read it. He can't do anything without seeing it.
What's been the most challenging word for you to spell?
There was fussbudget, which is a very hard word because it came from Gaulish, so I thought it would be b-u-d-g-e-o-t, but eventually I figured it out and realized it would be f-u-s-s-b-u-d-g-e-t. It took a long time, but when I said the word I was surprised because they said, "Correct!" and I was like, "What?!" I think that's the only word I really had trouble with.
Aida: My husband cannot take the stress of the competition. Every time that we go to a competition we go alone, or we go with Rodrigo's godmother, and she's there for me and I'm there for Rodrigo. It's a full week, and it's a lot of activity. What I usually do is help him practice and we get a big suite so it's more comfortable for him and he doesn't get too stressed. We have a lot of fun there.
Speaking of competition, what was competing on Genius Junior like?
When I was 8 years old, we received a letter from Mensa saying that there was this show that was recruiting intelligent kids.
Aida: Yes, if I allowed his name to be on the list that Mensa sends to the show, it gave him a chance to be qualified. He qualified for the show and they got everything — his hotel, his tickets, everything — and then they called us and said they're canceling the show.
We were really upset. And then they made another show the year after for Lifetime that was kind of a reboot of the other show, and it got canceled too. And then, just when our hopes were down, they called us in March of 2017 and told my mom, "Your son is qualified for Genius Junior. Would he like to participate?"
What are some of your favorite classes right now?
I'm with high school kids in like two or three of my classes, but honestly my favorite classes are either Technology or Medical Detectives. In Technology we get to code and build robots and use fusion software. We also get to make programs, too. In Medical Detectives we get to learn the terms for medicine. It's basically like taking one year of medical school but very simplified. You get to do case studies where you figure out the disease, the outbreak, how the disease works, etc.
I want to major in medicine. I want to be a general surgeon. I don't want to be very specialized. I want to have the ability to do everything, whether it's neurosurgery or heart surgery. I want to be a surgeon when I grow up. I've always known that I've wanted to be in medicine. I had a stint where I thought about majoring in medicine and minoring in computer science, so if medicine didn't work I could always become a programmer. But honestly, I'm dedicated to medicine.
Aida: I see you developing robotics for medical operations and surgery. That's where I see you going because you love everything related to robotics and medicine. He loves both of them so much.
How do you think Mensa can help gifted kids?
Mensa can help because Mensa is a very prestigious society. Honestly, I want more people to be accepted and as many smart people as possible because then you can advance the society and make it even better. Then it can be more prestigious and create better opportunities for smarter people, which means there can be even smarter people, and it's like a cycle.
Aida: Mensa is very strong in Florida. We realized not all the kids had the same opportunity to get into Mensa or know what Mensa is. When I talk to the parents of other kids who were on Genius Junior, we often say we're the parents of the future, you know? Smart people need to bond, and I think that's important for humanity no matter how smart you are or who you are.
It's been a big part of where he wants to be, not because being a part of Mensa assures him a certain position, but because it's opened doors for him. Once you have the door open, he alone can do the rest.
Aida: Mensa has been amazing to us. It's been a big part of where he wants to be, not because being a part of Mensa assures him a certain position, but because it's opened doors for him. Once you have the door open, he alone can do the rest. That's what I tell Rodrigo to tell other kids like him who are smart. If you want a strong path, go Mensa. It has been good for you and it can be good for other kids like you. We are so grateful for Mensa. There are no words to express it.
How do people react when you tell them you're a Mensa Member?
A lot of people have been like, "What is that?" and I basically describe to them in the shortest terms possible because if I try to explain it in detail, they'll blank. I tell them "a thing for smart people." A lot of my teachers know I'm in Mensa because it's so widespread through my school now.
Aida: I meet every teacher before he begins a class. Everybody knows Rodrigo — every single person in the school. Even if the teacher is teaching a gifted class, I always ask them to give him more work. He's very social. I told them to give him a lot more work, even if it's work outside of the curriculum.
I spoke once with a teacher in third grade, and she introduced Rodrigo to coding. He learned how to code in seven computer languages when was 8 years old because of that teacher. She was giving him extra work to challenge him, and she gave him a web page to start with so he could learn how to code. All of the teachers are well prepared to deal with gifted students, but I still ask that they give him extra work. A lot of the teachers love Rodrigo and will even post about him on their social media or send me nice comments. They are very proud of him. It's hard to explain the feeling you get when you see the love people give to your son. Rodrigo has this personality that everybody loves.