Young Mensan makes 'People' magazine's list of women changing the world
People magazine hailed a teenage Mensa member, along with celebrities such as Gal Gadot and Jessica Alba and luminary Jane Goodall, one of the "25 Women Changing the World in 2017." Natalie Hampton, a 17-year-old from the Los Angeles area, was recognized for her efforts building a mobile app aimed at deterring bullying.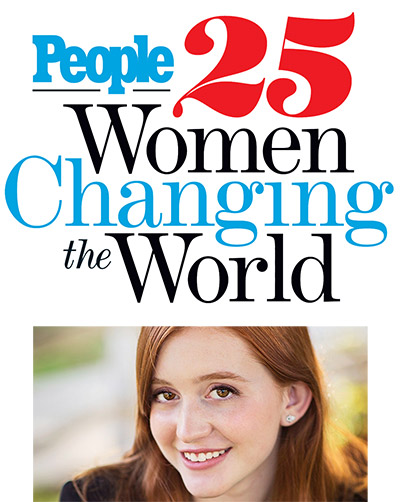 Hampton designed Sit With Us, which helps students find people to sit with at lunch, after being picked on in the 7th and 8th grades. The app works to keep kids from having to eat alone at school. Launched in September last year, Sit With Us is now used by more than 100,000 people in eight different countries, People reports.
"I was severely bullied in middle school and spent nearly every lunch period alone," Hampton said in a 2016 interview with YM², American Mensa's magazine for gifted youth.
"Being 'that girl' who had no place to sit branded me as a target for bullying. When I switched schools for 9th grade, I quickly fell in with a nice friend group. Whenever I saw someone eating alone, I would invite that person to join our lunch table. Over time, I saw these people become friends not only with me, but everyone in the group, and they were invited to birthday parties. I saw that the simple act of including them made a difference in their lives. I had already been tutoring and counseling young underprivileged kids in my city through two different non-profits, but I saw the app as a way to effect change on a larger scale."
Hampton's nod from the pop culture magazine is among myriad accolades the young Mensan has received for her anti-bullying efforts. This year the Mensa Education & Research Foundation honored her with its Copper Black Award, which recognizes an outstanding creative achievement by a member of American Mensa. Hampton has also received the Star Champion Against Bullying, Global Teen Leader 2017 (from the Three Dot Dash Foundation), and Maker of Merit at Maker Faire San Diego.
Hampton has taken her anti-bullying campaign to the national stage in media as prominent as NPR's All Things Considered, on which Hampton was interviewed by Audie Cornish, as well as her own TED Talk.
This latest round of kudos, however, could be Hampton's most high-profile yet. The high school senior was the youngest woman on a list that included the actress who plays Wonder Woman, the world's most famous primatologist, a former Fox & Friends host, and women tackling health and social issues such as HIV prevention, Alzheimer's disease, animal rescue, and arts-based psychological support.
* * *
Artists and authors, educators and innovators — our members come from every walk of life. They find Mensa in different stages in life and join for different reasons, because Mensa is where brilliance belongs. Interested in finding out where you belong? Find a test session near you or submit evidence of your past testing.