Young Mensans Organize Critical Deliveries to Seniors
Matthew Casertano and Dhruv Pai founded Teens Helping Seniors to address the unmet needs of the elderly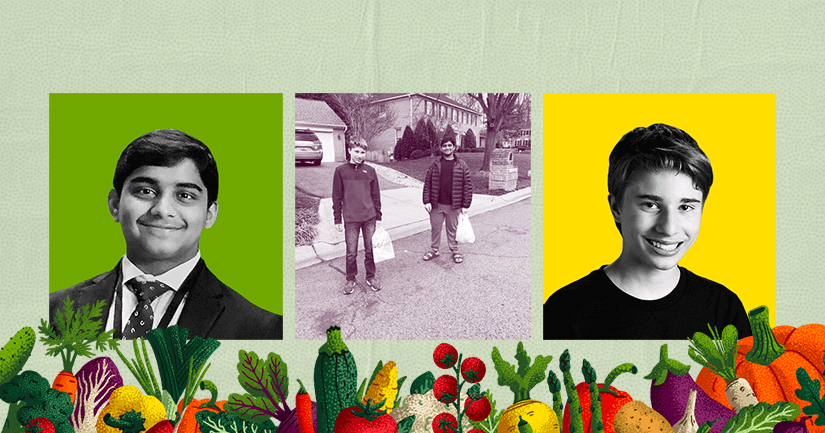 16-year-old Dhruv Pai and 15-year-old Matt Casertano first saw a way they could help others during the COVID-19 crisis when their grandparents expressed concern about going to the grocery store.
The two friends, who attend Montgomery Blair High School in Silver Spring, Md., began delivering groceries to their grandparents shortly after Maryland Gov. Larry Hogan announced the first positive cases of COVID-19.
As the number of cases began to grow in Maryland and around Washington, D.C., Dhruv realized he needed to find a way to support more seniors, who are at a higher risk of severe illness from COVID-19 according to the Centers for Disease Control and Prevention.
After Maryland schools closed in early March, Dhruv's extra free time and concern over his grandparents' health sparked the idea to create a network of teens to help struggling seniors. Together, Dhruv and Matt founded Teens Helping Seniors, an organization that connects volunteers with seniors to help deliver groceries and other items such as medication at no cost.
Matt and Dhruv hope the organization will address the unmet needs many seniors are struggling with due to the pandemic.
"We both realized we had this time off school ahead of us, and we have a lot of seniors who are going to be needing assistance if they want to protect themselves," Matt said. "Many of them won't have any family or friends who could help them with their shopping and with getting prescriptions. We wanted to connect teenagers who might be looking for something to do for those senior citizens in need of assistance."
Dave Cahn, Metropolitan Washington Mensa's Assistant Gifted Youth Coordinator, is proud to see these two YM's make a difference by helping others. As a GYC, Dave encourages gifted youth to find ways to volunteer and use their knowledge and skills to help others.
Making an Impact
Teens Helping Seniors' volunteer efforts began with a small group of teens from Montgomery Blair High School who were eager to lend a hand. It didn't take long before volunteers from surrounding high schools joined their effort.
"We started out as just a local Montgomery County organization, not even Montgomery County, just Montgomery Blair High School and maybe three or four kids meeting after school," said Dhruv. "In a week we expanded to other parts of the county. The week after that, we expanded to other parts of the state. And then the week after that we went national. We're also hoping to start chapters internationally, in Spain for example."
The organization now boasts more than 450 volunteers with 21 chapters in states as far apart as New York and California. They even have chapters in the works in Montréal and Toronto that are currently searching for volunteers.
"It's inspiring seeing volunteers from across the nation that are reaching out to us and saying, 'Hey, we need such a service. How can we help?'" Dhruv said. "That message has resonated with us. As a result, we've been able to get so, so many volunteers. We're all striving for the same common message of protecting our communities and crossing that generational gap to help those who are most vulnerable during these times."
The organization works by connecting seniors with a volunteer in their area who can deliver groceries. Clients email the group with their home address, preferred delivery times, and a list of grocery items to purchase. Volunteers then confirm the delivery time with the senior who can leave payment on the doorstep or use apps such as Venmo or Cash App to pay for the groceries.
Volunteers are required to wear masks and gloves and to sanitize all grocery bags before leaving them on a client's doorstep. So far volunteers have served more than 700 seniors.
"Essentially, we have two main strategies of preventing spread. We try to keep the volunteers as safe from the virus as possible, through gloves, masks, and social distancing practices," Matt said. "And we try to make sure volunteers never actually interact with seniors. So even if something goes wrong on that first step, as long as the second step is followed, there's a very low risk of transmission."
The organization emphasizes the importance of maintaining a safe distance of six feet when grocery shopping, as well as being completely contactless to protect seniors' health. Volunteers are required to sign a pledge that states that they currently have no cold or flu symptoms and have not been out of the country or around anyone who has tested positive for COVID-19 in the previous two weeks.
Leaving a Legacy of Kindness
Volunteers who run the social media accounts and write blog posts for Teens Helping Seniors have helped spread the word about the organization. Since the group was formed in March, teens across the country have reached out to see how they can get involved. The organization receives new delivery requests almost every day.
Because of the group's efforts to help seniors who are in desperate need of their services during this challenging moment for the country and the world, their work has been featured in media outlets such as CNN, People Magazine, and The Washington Post.
Despite knowing that it will be more challenging to make deliveries when schools re-open in the fall, Teens Helping Seniors doesn't plan on stopping deliveries after the pandemic is over. Both Matt and Dhruv recognize the need for ongoing support for seniors who are often isolated in their communities.
"We recognize that there are senior citizens who even after the pandemic won't be able to go shopping," Matt said. "That could be because of a disability or immune deficiencies. Going out during flu season at all, even if there's not a pandemic, is dangerous. One thing we've been thinking about doing is setting up some sort of intergenerational dialogue mechanism. We have a lot of volunteers who have forged really special and strong relationships with seniors, and we've had some volunteers who've expressed interest in maybe leading something like that."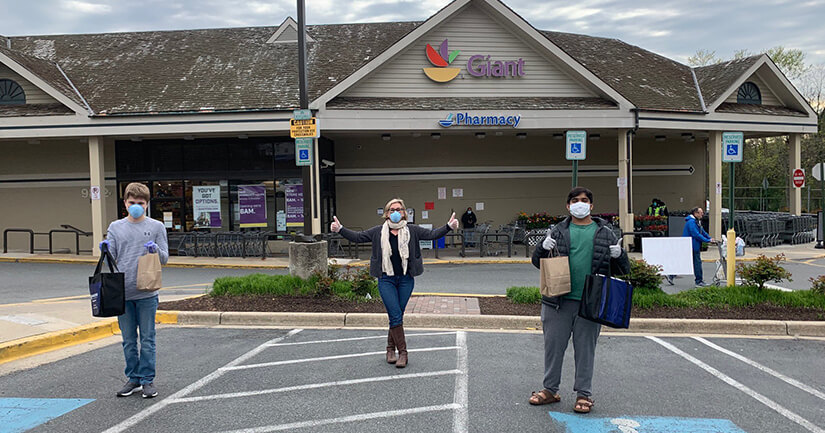 Teens Helping Seniors has also partnered with organizations to extend its reach.
"We've partnered with organizations like ServingTogether, which is a veteran organization, and the Alzheimer's Foundation of America, which is an organization for seniors with dementia or Alzheimer's to help provide services for those seniors," Dhruv said. "The fact that we've been able to make those kinds of connections with other organizations who are just as interested in kindness and helping those who are vulnerable has made us a hugely successful endeavor."
Beyond delivering groceries, many volunteers have created lasting bonds with the seniors they assist. Some volunteers text the seniors they work with regularly to check in on them and see how their day is going.
"It's been hard on a lot of the seniors because their families might be in a different area," Matt said. "We've had numerous heartwarming incidents like the time the volunteer baked the cake and wrote a card free of charge for a senior's birthday. We've also had our volunteers have extensively long conversations with seniors after deliveries. I think it's been really touching for both me and Dhruv to see these stories."