Angela Christie, First Vice Chair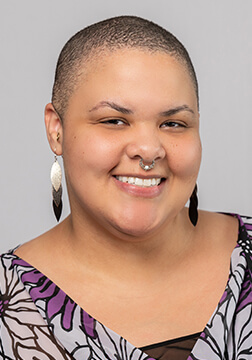 Angela was raised in the small town of Hartford, Vt., and she currently lives in Hooksett, N.H. Angela graduated from St. Lawrence University in 2010, and she currently works as a project manager in healthcare IT.
Angela has also worked as an EMT, a high school track and field coach, an engineering aid, and a scheduling administrator. Her father, Kevin, is one of Vermont's only state representatives of color, and she continues to be inspired by his activism.
Angela joined Mensa in 2011, and it has been an incredibly important part of her life since. Angela credits Mensa with connecting her to her best friends, being a constant source of entertainment and support, and further encouraging her to be a better version of herself.
Angela loves her cat Hermione, playing and teaching boardgames, cooking, and spending time with friends.