Chloe Rozalsky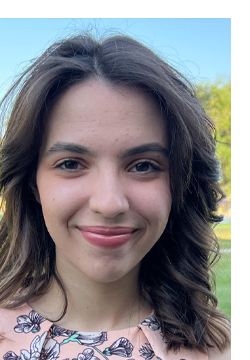 Graduating Year (High School): Class of 2022
Graduating Year (College): Class of 2026
Name of University Attended: Barrett, The Honors College at Arizona State University
Mensaversary: 2011
MHS Anniversary: 2018
Volunteer Work I'm Most Proud Of: Whether belting a high "E" note in a Sondheim musical, or planning an activity at the Arizona Science Center for teens, the volunteer efforts am most proud of are those that have enticed youth from diverse and often underrepresented backgrounds to engage with experiences that helped them discover passions that could potentially open doors to new opportunities. On stage, as a volunteer youth actor, I encouraged people to laugh, cry, think critically about issues presented through live theater, and to explore the world of dramatic arts for themselves. As a former member of, and Content Lead for the Arizona Science Center's Teen Advisory Board, I worked with my team to plan themed events for Arizona teens, aimed to help them discover a passion for STEM. Working with kids and teens is as rewarding to me as it is to them—Surveys conducted after Science Center events proved that the majority of teens who attended learned something new. I made friends from different backgrounds, and expanded my own interests beyond my comfort zone (did someone say, "hissing cockroaches?!).
What I'm Doing Now: As a National Merit Scholar at Barrett, The Honors College at Arizona State University, I am double-majoring in Neuroscience and Earth and Space Exploration (Astrobiology and Biogeosciences). For the 2023-2024 academic year, I will be employed as a Barrett PAL (Peer Academic Leader)—this means I am among the welcome team that will greet and support incoming freshmen into the college. During my freshman year, I began working under the tutelage of one of my professors to further develop a concept I created for an honors project for an educational neuroscience board game that I hope will one day be brought to market. I am also very excited to have obtained a coveted position as a research assistant within a lab at The Biodesign Institute at ASU. And, I remain an active volunteer  in community theater and at the Arizona Science Center.
How The Mensa Honor Society Helped Me Achieve My Goals: I was only 5 years old when I became a member of Mensa, and I recall even then, feeling like I was a part of something special. I learned about the Mensa Honor Society in middle school, and I knew then that I wanted to be able to call myself a Mensa Scholar. The Mensa Honor Society became a motivator for me to uphold my academic standing, civic engagement, and involvement within my school and community. The tiers of the Society pushed me even further, by encouraging me to become a Platinum Member. Reading about past Scholars and their accomplishments fed me inspiration and offered role models as I worked to complete high school. Especially as a high school student during COVID-19 shutdowns, knowing I was part of the Society helped me cope with the forced confinement, and made me feel like I was part of a larger community working toward a shared goal of bettering our own communities. At the time I became motivated to join the Mensa Honor Society, I thought it would simply be a fun goal to set for myself. I now realize that the motivation to be a part of the society is what inspired me to serve my community. Now, as a Mensa Honor Society graduate, I realize that knowing I could become a part of the Society is what has led me as an adult, to solidify my dedication to continue servicing my community at large through volunteerism and engagement while continuing pursuit of academic excellence.