Mariya Nadberezhna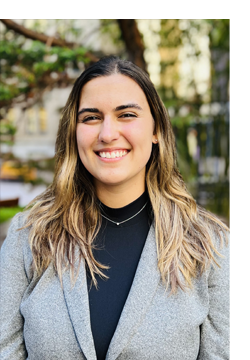 Graduating Year (High School): 2017
Graduating Year (College): 2019
Name of University Attended: San Diego State University (B.A., M.A.)
Mensaversary: 2015
MHS Anniversary: 2016
Volunteer Work I Am Most Proud Of: I have three favorite volunteering experiences from my time in high school and leading up to my Master's program!
First, throughout high school (Palos Verdes Peninsula High School) and most of university (SDSU), I worked with the Muskwa Club when they focused their efforts on saving the vaquita porpoise. I helped build a drone prototype for use in the Gulf of California and tabled with my team at aquariums, seafood fairs, and school events educating folks on the plight of critically endangered cetaceans. I led as their first female president and was proud to represent them and speak about the vaquita at local seminars, therefore improving my own public speaking skills and motivating me to pursue my education in communication. To outline our impact, we started International Save the Vaquita Day that is now a recognized day of awareness for many environmental organizations, and created a Change.org petition that eventually got over 100,000 signatures, catching the attention of celebrities like Leonardo DiCaprio.
Second, in my undergraduate career, I re-founded our school's Eastern European Club and provided pro bono Russian tutoring sessions to students at San Diego State University. I created lesson plans for language sessions, led engaging activities, and created opportunities for Eastern Europeans at San Diego State to connect and socialize in their native languages. This experience helped me connect to the community culturally, spread traditions not frequently found in the West, and spark my love for teaching that eventually led me to teach a college-level public speaking course for two years.
Lastly, in my Master's program, I participated in an invitation-only Grant Writing apprenticeship under Dr. Rachael Record. We worked with Fulfilling Destiny, a local, nonprofit organization focused on ending period poverty in San Diego and helping menstruators have their period with dignity. I worked directly with Eya Touglo, the founder and Chief Executive Director, to host a "packing party", where I and about forty other volunteers packed menstruation kits for San Diegans in need. After the successful completion of the apprenticeship, I was able to use my new skills to independently write and submit a grant proposal to eventually obtain a $9,932 grant for Fulfilling Destiny, almost doubling their total funds. 
What I'm Doing Now: I now work as a Recruiter at a life sciences recruiting company called Meet, in their Research & Development division.
My role involves finding key talent and matching these individuals to local biotech and pharmaceutical companies in the San Francisco Bay Area. Some of my placements include a Director of Alliance Management at a rare disease company with multiple products on the market, an Associate Director of Functional Genomics at a cutting-edge platform company, and a Lab Manager (and hopefully soon a few Research Associates!) at an ambitious company working to be the first to derive human egg cells from stem cells in blood.

I find it incredibly rewarding to connect the right people to the correct teams as a means of progressing science further, since a beautifully-built team can make major scientific strides which can eventually become life-changing therapeutics delivered to patients. I also love changing the individual lives and careers of stellar candidates by finding them a perfect-fit role! In short, I spend all day talking to scientists, understanding what they do, and matching them with innovative companies all across the US.

I studied communication with an emphasis in organizational communication and wrote my Master's thesis on the communicative boundaries between remote work and life, so I also spend my days consulting biotech and pharma CEOs on the impact their management styles, work format offerings, and overall communication habits make on their employees!
As a 23-year-old, I sometimes need to step back to look at the big picture and realize that the work I do is kind of a huge deal, and that even as a young individual I have a lot of influence over the future of biotech and pharma. Right now, I'm continuing to expand my network in order to connect with leaders to learn more about the biotech and pharma space to identify and target any gaps, and use my strong people skills to fill them in. In addition, I'm working to connect with young people new to the scientific space (class of 2023 grads most recently) and share my insight as a mentor. I know I still have a lot to learn, and a lot of time to do it, so I'm incredibly excited for what the future holds!
How The Mensa Honor Society Helped Me Achieve My Goals: The Mensa Honor Society gave me confidence and energy to participate in the things that I truly enjoyed. In addition, it paved the way for further achievements, such as my induction into all five honor societies available at San Diego State, making me one of 8 students out of almost 10,000 in my graduating class to receive the Henry L. Janssen award. Also, my membership has helped me participate and lead in various extracurricular activities during my time in academia, including my 5 years of service (with 3 as Band Manager) to the SDSU Marching Aztecs and Pep Bands. In addition, my membership in the MHS truly has helped me demonstrate integrity, intellectual curiosity, academic commitment, and service--and continue developing the characteristics that support those ideals further! Overall, Mensa Honor Society encouraged me to continue challenging myself, and pursue ambitious feats, and for that I'm incredibly grateful. As a Mensan, I hope to continue using my intelligence to give back to my local and global community, and encourage others to do the same for the good of humanity!