Meagan Warren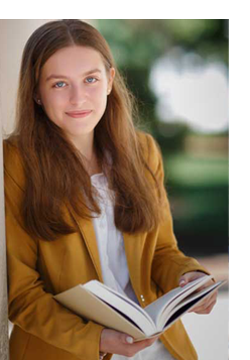 Graduating Year (High School): 2021
Graduating Year (College): 2025
Name of University Attended: College of the Holy Cross
Mensaversary: 2013
MHS Anniversary: 2015
Volunteer Work I'm Most Proud Of: In 2014, I founded a nonprofit organization called Books For Bedtime. My goal was to get books into the hands of children who need them, donating books to individuals, families, and teachers, and helping schools without libraries create a library. In total, I have donated over 125,000 books and had a global reach. I have both encouraged kids to feel that reading is cool and given them the tools they need to succeed academically. 
What I'm Doing Now: I am currently a Junior majoring in Classics with a minor in Philosophy and a concentration in Gender, Sexuality, and Women's Studies at the College of the Holy Cross. My efforts with Books For Bedtime are temporarily halted, due to me being out of state. However, my efforts to better the world have not stopped. I have been very active at my college. I have led a new effort to improve composting and recycling at the college, going door to door to inform my peers about recycling on campus through an interactive game. I am also leading a movement within the Classics department with the goal of making the department more inclusive and welcoming. Classics has traditionally been dominated by people with certain identities. A friend of mine and I recognized this and created a new organization on campus with the aim of bringing different voices within our department together to create a new path for Classics wherein all people feel heard and represented. This summer, I am conducting research at the College, working with a 10th Century Iliadic manuscript upon which I began work earlier this year.
How The Mensa Honor Society Helped Me Achieve My Goals: The Mensa Honor Society helped me achieve my goals in several ways. First of all, it is always nice to be recognized for your efforts. I have been recognized for academic excellence and I have been recognized for my volunteerism separately, but rarely have I been recognized for both simultaneously. It is truly important to recognize both, I think, because too often people choose to prioritize one or the other, often whichever they think will benefit them the most. However, my efforts have made it quite clear to me that learning outside the classroom, through volunteerism, is as important as learning inside the classroom. Only through these experiences can we learn to be the best version of ourselves. The Mensa Honor Society has served as a reminder that all that I do matters and has served as encouragement as I have pursued new endeavors. Additionally, of course, the Mensa Honor Society has helped me achieve my goals professionally. Mensa is an old organization with a distinguished reputation. Being able to place on my college applications and on my Curriculum Vitae that I have earned a place in an honor society for such an organization has no doubt impressed those with whom I aim to work.