Summer Smentek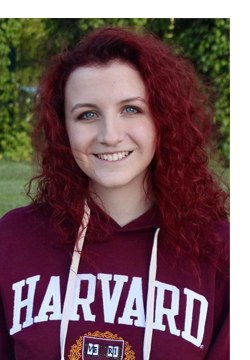 Graduating Year (High School): 2021
Graduating Year (College): 2025
Name of University Attended: Harvard (with summer credits from UCSB and Purdue)
Mensaversary: 2012
MHS Anniversary: 2015
Volunteer Work I'm Most Proud Of:  Volunteering as a King Conservation Science Scholar at the Brookfield Zoo in high school has been a tremendous source of pride for me. While I graduated from the honor society with over 860 volunteer hours, it is these 640+ service hours that have meant the most to me. It is there that  I interpreted exhibits to zoo guests, participated in science workshops to further my ability to educate the public on the conservation stories of various species, assisted at special events, and completed special projects, some of which included collection of research data for the Species Survival Plan of certain endangered animals. It was here that my journey toward making meaningful impact on the lives of vulnerable, threatened and endangered wildlife truly began. As a person impatient to be of service for a cause that I felt passionate about and, that also has a sense of urgency in its need for change, it was personally rewarding to make a consequential impact at an age where it is otherwise easy to feel helpless. 
What I'm Doing Now: I am currently studying Integrative Biology with a minor in Mind Brain Behavior at Harvard, in pursuit of a career in conservation biology in sub-Saharan Africa. I am focused on finding solutions to farmer-carnivore conflict in rural communities that benefit both the wildlife and people that share land spaces. I have just completed a semester abroad with the School for Field Studies at the Centre for Wildlife Management Studies in Rhotia, Tanzania, as well as at various national parks in Tanzania and Kenya. This summer, I have been in Namibia volunteering at N/a'an ku sê Wildlife Sanctuary and assisting with research at their TimBila Nature Reserve. I will soon be working with the Davies Lab at Harvard to study lion distribution and resource selection across multi-use landscapes in Laikipia, Kenya. Recently, I have also had the privilege of presenting my research on the evolutionary history of burrowing behavior in deer mice as a fellow of the Program for Research in Science and Engineering and at Harvard's Brains and Behavior in the Wild Symposium. 
How The Mensa Honor Society Helped Me Achieve My Goals: The Mensa Honor Society has helped me achieve my goals by encouraging me to pursue my interests and by fostering my talents. It has recognized my devotion to community service, which has in turn reinvigorated my passion to continue this work and reach my full service potential. Last, as a student in a high school environment that often recognized and was appreciative of athletic endeavors above academic, artistic and service oriented ones, having an ally and support system which fully embraced these sorts of goals and achievements, has reinforced values which my family holds, and has been crucial to my personal development.