Old Is New Again
A dazzling new sheen on the Rust Belt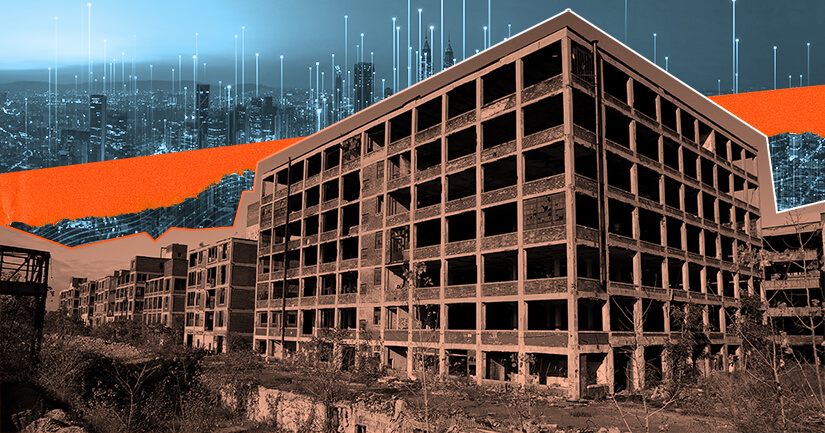 Many of the manufacturing estates and cities in what was once known as the Rust Belt have experienced a transformational spit and polish in recent years — so much so that some of them positively shine with dynamism built around high technology and creative industries.
What I have found is that the old, abandoned industrial sites have been converted into new productive uses in hundreds of cities across the United States and around the world. The story of converting former abandoned industrial sites into new powerhouses of creative and high-tech industries is a story of reinvention and renewal that is being witnessed worldwide. Cities and towns formerly known as major manufacturing hubs — the old economy — are increasingly transitioning to the new economy.
For instance, the old Studebaker automotive plant in South Bend, Ind., that closed down in 1963 is now the Renaissance District, the Midwest's largest mixed-use technology campus, which houses a data center and educational, industrial, commercial, co-working, residential, and retail spaces. Ignition Park, located on 140 acres of Studebaker's famous Engineering Department, is one of two state-certified technology parks in South Bend, the other being Innovation Park at the University of Notre Dame just north of downtown South Bend.
Ignition Park's focus is on high-potential technologies and ventures such as nanotechnology and turbomachines; Notre Dame's Turbomachinery Laboratory is located within Ignition Park. South Bend has perhaps the densest concentration of fiber optic cables in the country, ideal for data centers and telecom and cloud services companies. It even has a commuter rail offering direct access to downtown Chicago. The University of Notre Dame provides the intellectual capital for Ignition Park and the city's other businesses.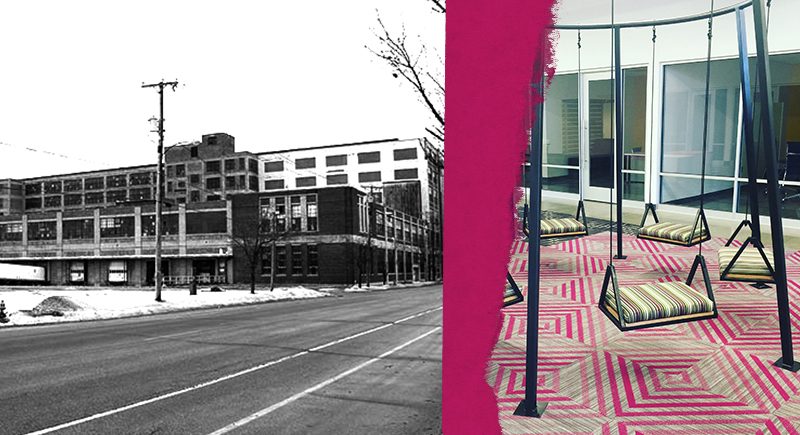 As President of the (then) Toledo Area International Trade Association and a member of the faculty of the business school at Bowling Green State University some 20 years ago, I had the opportunity to explore northwest Ohio, a part of the Rust Belt region, in some depth. Around that time, I also obtained a Business and International Education federal grant with the theme "Northwest Ohio: From Rust Belt to Prosperity in a Global Economy," which gave me further insights into this industrial decay and its potential. The two-year BIE grant was intended to help strengthen the international competitiveness of regional businesses through education, research, and outreach. Over time, I have become quite interested in how some of the old, shuttered manufacturing estates and cities resurrected themselves into something new, dynamic, and exciting.
Manchester, N.H., reputed to be a global textile capital before World War I, is now home to knowledge businesses, research institutes, and fancy restaurants. The old, once-crumbling Riverside Mill District has been reincarnated into a complex of 30 technology firms, including Texas Instruments and Autodesk. Dyn, an internet performance company with more than 400 workers during its heyday, was headquartered in one of the repurposed industrial buildings. Its office space looked like that of a high-tech company in Silicon Valley, complete with indoor putting greens and playground slides. (Oracle acquired Dyn in 2017 but permanently closed it in January 2020). Some of the 19th-century industrial buildings that previously served as tenement housing for textile mill workers are now stylish, eclectic residential condominiums and retail stores.
The University of New Hampshire, which maintains an urban campus in Manchester, has been strengthening its STEM offerings and has a new biotechnology major. Many members of its large student body find for-credit internships in the immediate business community, often in STEM-oriented fields at high-tech companies. The Department of Defense is setting up an $80 million research institute, the Advanced Regenerative Manufacturing Institute, for the biofabrication of human tissue and organs.
The Crown Cork and Seal Company started operations in Baltimore in 1897 and was once the largest bottle cap factory in the world. After relocating its headquarters to Philadelphia in 1958, the company sold 30 of its industrial buildings to the City of Baltimore for $1.5 million, but manufacturing continued at its Highlandtown plant for another 30 years. (It closed its Baltimore operation in 1987.) The repurposed Crown Cork and Seal building now houses artists' studios and light manufacturing enterprises.
One of the company's buildings, the Copycat Building (named after Copy Cat Printing, which operated in the building decades ago), is now the centerpiece of Baltimore's Station North Arts and Entertainment District. It offers studio and living space for more than 100 artists, musicians, and performers. Another building now houses the Emerging Technology Center, a nonprofit tech incubator that has worked with more than 100 tech startups at different stages of their evolution.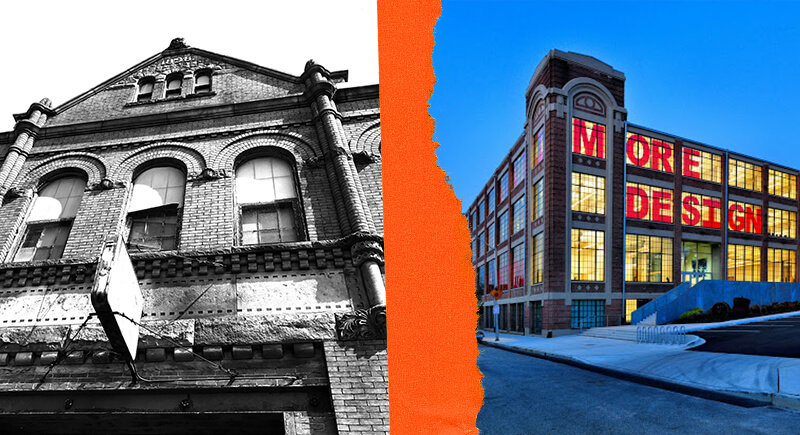 In the mid-2010s, James and Deb Fallows went on a three-year journey across the United States in their single-engine Cirrus SR22 airplane, exploring small and medium-sized cities that had previously suffered economic, political, environmental, or some other hardship but came out of it successfully. They traveled to about four dozen cities, spending up to 10 days in some of them. The March 2016 issue of The Atlantic magazine has their detailed story, titled "How America Is Putting Itself Back Together." Everywhere they went, they saw signs of reinvention and renewal.
They found that despite the major talent destinations of the East and West Coasts, talent and ambition are widely distributed throughout the United States. Duluth, Minn., for example, is now a key aerospace center in the nation and also has new firms in medical equipment, environmental technology, and other high-tech fields. The space occupied by the former Bethlehem Steel plant in Bethlehem, Pa., now has a performing arts center, a casino resort, and outdoor music venues. Pittsburgh has metamorphosed from a dying steel city into a major technology hub, aided by its key universities and local philanthropists (the Mellon, Heinz, Carnegie, and Frick families) committed to the city's development.
Such phenomenal changes are not limited to the United States. Dozens of European cities have experienced similar evolution. Like Pittsburgh in the U.S., entire cities — not just old manufacturing plants — have been transformed into creative and high-tech spaces. For example, the city of Sheffield in the U.K. was the birthplace of stainless steel manufacturing and a major player in the first Industrial Revolution.
After four devastating rounds of deep recession and other natural disasters during the '70s and '80s, Sheffield's resurgence during the 1990s and especially during the early 2000s can be attributed to high levels of public investment, its strong university anchors, advanced engineering and technical skills, manufacturing heritage, preexisting infrastructure, and some 13,000 small- and medium-sized enterprises that account for more than 80 percent of all private sector jobs in the city. Its new economy companies are involved in hydrogen and other renewables, digital innovation, environmental technologies, and advanced manufacturing.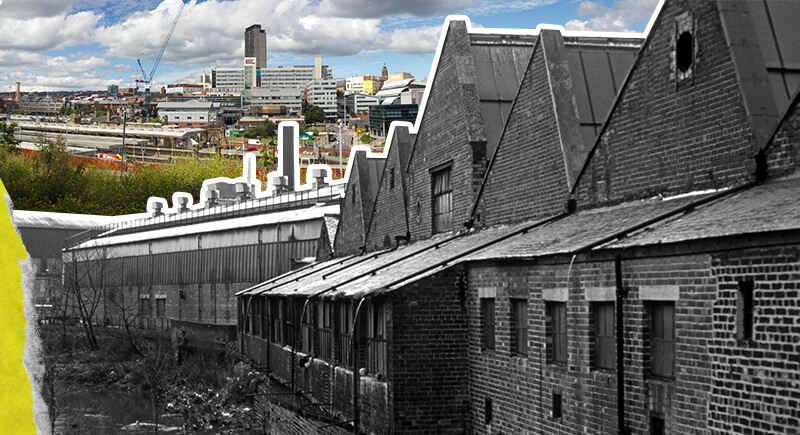 One of the reasons for the comeback of downtrodden communities and cities has been the availability of cheap land in once-abandoned manufacturing estates. But none of the industrial renaissances would have been possible without the backing of universities with preexisting specialized research and educational facilities, their manufacturing and industrial heritage, infrastructure, local philanthropies and economic development agencies, and public investment. These factors have led to the establishment of incubators and other resources that attract entrepreneurs, startups, artists, and others looking for affordable places to establish themselves.
In their 2016 book The Smartest Places on Earth: Why Rustbelts Are the Emerging Hotspots of Global Innovation, Antoine van Agtmael and Fred Bakker explore why the rust belts of the rich world are developing into what they call brainbelts. With dozens of examples of rust belt and non-rust belt cities from the U.S. and Europe, they tell stories of how people from different cultures and backgrounds came together to find global solutions for global problems. They highlight several factors that helped create the brainbelts, such as visionary thinkers, local universities, public initiatives, startups, and even big corporations. These emerging islands of creativity and innovation have transformed local economies through collaboration between business, academia, and regional governments working together with ingenuity, new technologies, and new materials.
The Jan. 21, 2011, issue of Newsweek published a list of 10 dying cities of America, based on the largest population declines in America's metro cities, that included South Bend and Pittsburg. Despite declining population, these and many other cities now present growth trends that span high-tech and creative industries, even growing population in some places — all hallmarks of economic resurgence. They offer lessons for erstwhile industrial cities to benefit from their preexisting industrial and infrastructural assets, universities, corporations, local philanthropists and visionary thinkers, and governments to work together for a new future.
---