Trainwreck in Heels
My decade-long strut down Mensa's runway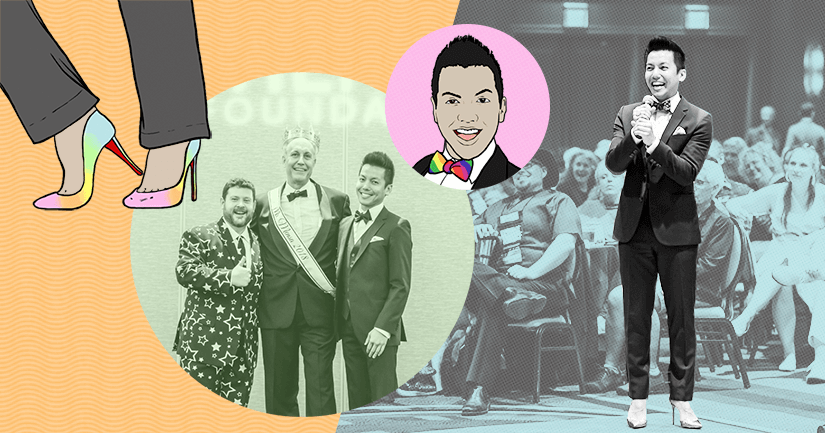 I was never great at blending in. Then I joined Mensa — and "blending in" became patently irrelevant.
With its charming idiosyncrasies and unexpected opportunities for authentic belonging, my Mensa family is one I have held dear since my entry in 2010. As I approach the close of my first decade of Mensanhood, I realize I have much for which to be grateful about this whimsical, wonderful group.
Origin story: In the mid-1990s, I learned of Mensa through actress Geena Davis, whom I had researched for a seventh-grade film review assignment. Ostensibly, Ms. Davis was a Mensan, which my pre-teenage mind interpreted as elite and sui generis — and seductive. Fast forward to spring 2010: A college alumni message board announced a local Mensa testing session, so I went. My acceptance letter arrived on June 30, 2010, at the start of the Dearborn AG. That day, I rushed to learn what an AG was — and, equally, what a Dearborn was. (It's a city!)
A year passed before I attended the Portland AG, where I would try to make friends by competing in the annual Mr. Mensa Pageant, a satirical take on Miss America benefiting the Mensa Foundation. A charitable-minded 20-something, I figured even if I lost this contest, my participation could help some nerdy kid win some nerdy scholarship to buy some nerdy textbook. Indeed a relatable narrative.
That fateful summer evening, before a hotel ballroom full of curious strangers, I sassed my way through the pageant's four competitive segments: talent, evening wear, interview, and "sexy legs," during which I wore the Christian Louboutin peep-toe platform slingback stiletto heels I purchased for the occasion. Lo and behold, I won my first Mr. Mensa Pageant! What's more, the myriad Mensans whom I befriended that long weekend set me on a path to become ridiculously entrenched with my weird new family.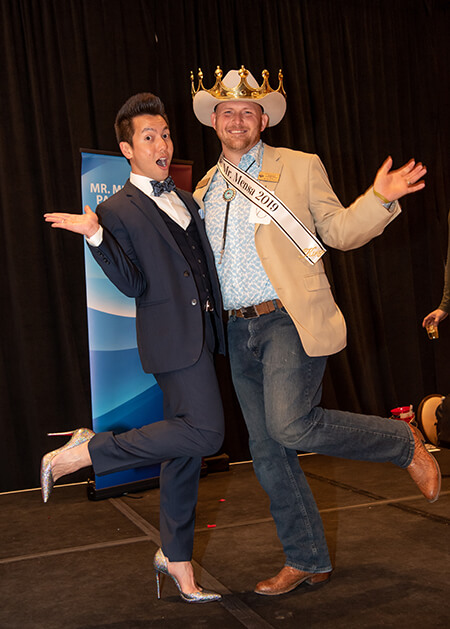 This entrenchment included the 2012 AG in Reno, where I delivered an 80-minute talk entitled "EleMents of Style" to a standing-room-only audience of my newfound peers. Armed with a PowerPoint and a glass of crisp chardonnay, I extolled the virtues of kindness and self-maintenance, such as the high merits of thinking before speaking as well as the noble practice of wearing colors that match and clothes that fit. I like to think some Mensans have since retained and enacted these wisdoms. Today, I see many have not. Bless their hearts.
The following spring, hours after my birthday, I received an invite from the 2013 AG Chairs to serve as the Mr. Mensa Pageant's emcee, a role that had recently been vacated. Done and done — what a delightful belated birthday present! This also positioned me at the helm of the overall production, so I marshaled a cadre of fellow volunteers from across the U.S. to achieve this herculean task within the allotted four-month runway. (Admits even Anna Wintour, esteemed longtime Editrix-in-Chief of Vogue magazine: "You are nothing, nothing, without a good team." Duly noted, Anna.) To add some sparkle to the stage in Fort Worth, I procured and donned a brand-new pair of Louboutin stilettos, a practice I have upheld every Mr. Mensa since. Two hours of playful shade-throwing later — my voice hoarse and my feet swollen — our team, our contestants, and our audience had raised a respectable $4,000 for the Foundation. Equivalent to a few new pairs of Louboutins!
We carried our production model through the ensuing six AGs, and each show offered its unique flair — much like a snowflake or a backhanded compliment from your mother-in-law. I am proud that my fellow production teammates, squarely by my side all these years, have grown this offbeat fundraiser into one of the most-fêted and best-attended events at each AG. All told, our seven two-hour pageants raised a staggering $62,346 for the Foundation. This seemingly spurred Foundation Board President Marie Mayer to hijack my microphone and stage at last year's Phoenix AG to present my team and me with a Volunteer Service Award autographed by our very own POTUS. Thanks, kween.
Currently, I am unsure what even the immediate future holds; at the time of this writing, the COVID-19 pandemic continues to stymy human life with undiscerning abandon. What I am certain of is that my first 10 years of Mensanhood have been wondrous, absurd, and perfectly imperfect. And I will be forever grateful to my Mensa family for empowering me to be the charitable trainwreck in heels that Geena Davis needs me to be.
Here's to the next decade and beyond.
---