2021 Mensa Select® Winners Announced
Abstract strategy, fantasy, and family-friendly titles score highest marks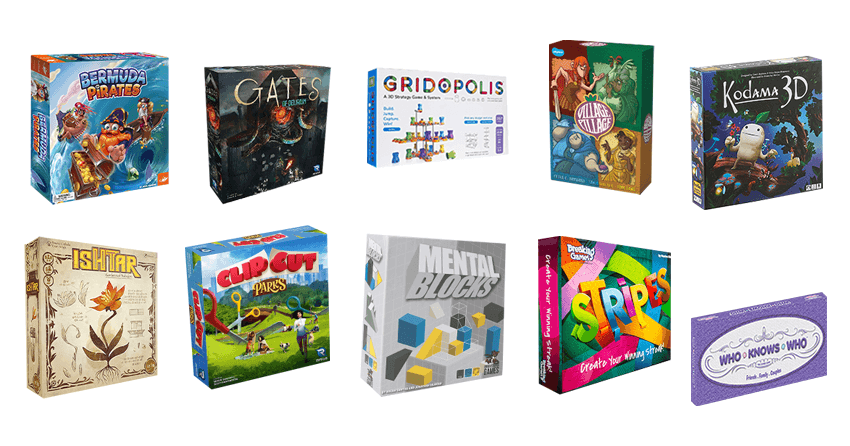 HURST, TEXAS, Sept. 16, 2021 — After nearly four days of nonstop gameplay at Mensa's 2021 World Gathering, American Mensa and Mensa members have recognized 10 tabletop games with the coveted Mensa Select award. The latest titles to receive the Mensa Select seal of approval include:
Bermuda Pirates, by FoxMind Games
ClipCut Parks, by Renegade Game Studios
Gates of Delirium, by Renegade Game Studios
Gridopolis, by Gridopolis Games
Ishtar: Gardens of Babylon, by IELLO USA
Kodama 3D, by Indie Boards and Cards
Mental Blocks, by Pandasaurus Games
Stripes, by Breaking Games
Village Pillage, by Jellybean Games
WHO KNOWS WHO, by Digby Doo
Winning titles have been awarded the official Mensa Select distinction because each is original in concept, challenging, and well designed. In addition to the 10 Mensa Select winners awarded in 2021, 25 games have also achieved Recommended by Mensa status — titles acclaimed for their unique design, and high replayability.
Entries for Mind Games 2022 will be accepted in late fall of 2021. Entries for 2022 consideration must have achieved national distribution between June 1, 2020, and June 1, 2022. Mind Games 2022 will be hosted by the Maine Mensa chapter in April. To find out about competing games and past winners, visit mensamindgames.com.
About Mensa Select
Awarded annually by a judging panel comprised of Mensa members, the Mensa Select seal indicates that a game is distinctive, challenging, and thoughtfully designed. Additionally, these games are a good value for the price, easy to comprehend and play, and, above all, fun! Look for the Mensa Select seal when purchasing your next game.
# # #
American Mensa is an organization open to anyone who scores in the top 2 percent on an accepted standardized intelligence test. Mensa has more than 50,000 members in the United States and more than 130,000 members globally. For more information about American Mensa, visit americanmensa.org or call (817) 607-0060.