Entertainer Penn Jillette To Spotlight High-IQ Society Gathering
ARLINGTON, TEXAS, April 5, 2017 — Hundreds of the country's brightest minds will converge on Hollywood, Fla., for the largest annual get-together of the high-IQ society American Mensa.
The five-day Annual Gathering, which will draw upwards of 2,000 attendees from July 5-9 at the Diplomat Beach Resort, will feature author and television star Penn Jillette, the taller, louder half of the magic duo Penn & Teller.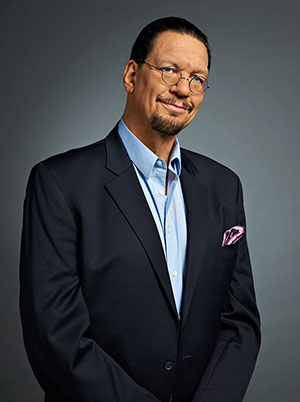 Mensa's Annual Gathering brings together members who have qualified for entrance into the organization by scoring in the top 2 percent of the general population on an accepted standardized intelligence test. Besides taking in educational programs, event-goers engage in intense gaming, raise money for scholarships at a tongue-in-cheek beauty pageant, hear from world-renowned speakers and enjoy the company of fellow members. An annual tradition that started in 1963, the event is hosted in a different city each year.
Much more than a magician, entertainer and philanthropist Penn Jillette will speak at the event's Gala Dinner. An array of speakers will present scores — possibly hundreds — of lectures and presentations on a variety of subjects. The Gathering is closed to those who are not members of Mensa. However, the public is invited to participate in the American Mensa testing sessions. These sessions allow test takers to experience the official Mensa Admission test battery and discover whether or not they qualify for membership into the largest high I.Q. organization in the world. Plus, all test takers will receive a one-day admission to the 2017 Mensa Annual Gathering.
For current information on the event, including test sessions, please visit ag.us.mensa.org.
# # #
American Mensa is an organization open to anyone who scores in the top 2 percent on an accepted standardized intelligence test. Mensa has more than 50,000 members in the United States and more than 130,000 members globally. For more information about American Mensa, visit americanmensa.org or call (817) 607-0060.