Mensa Foundation Honoree Named One of 'People' Magazine's "25 Women Who Are Changing the World"
17 year-old Natalie Hampton's app combats bullying in school
Arlington, Texas, Nov. 3rd, 2017 — Natalie Hampton, creator of the free Sit With Us app and recipient of the Mensa Foundation's Copper Black award for creativity, has been recognized as one of People magazine's "25 Women Who Are Changing the World in 2017."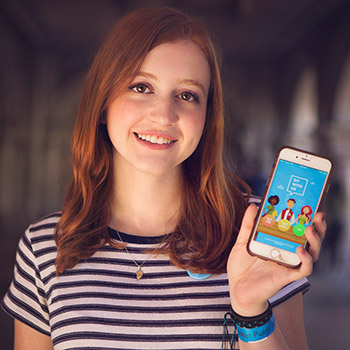 The list also includes actress Gal Gadot; famed primatologist Jane Goodall; Maria Shriver, founder of the Women's Alzheimer's Movement; and epidemiologist Dr. Celine Gounder. Each of the people on this list have used their talents to work toward improving the world around them.
Natalie's intelligence and compassion drove her to find a solution to a problem that personally affected her and her peers. Her solution provides a discreet tool where users can create a safe place for those struggling to connect with other school mates and find people to sit with during lunch. The app now boasts more than 100,000 users in eight different countries, according to People.
"Her work as an innovator and advocate has a significant impact on solving societal problems," Mensa Foundation President Marie Mayer said.
# # #
American Mensa is an organization open to anyone who scores in the top 2 percent on an accepted standardized intelligence test. Mensa has more than 50,000 members in the United States and more than 130,000 members globally. For more information about American Mensa, visit americanmensa.org or call (817) 607-0060.