Mensa comes to Louisville, July 1-5
The high I.Q. organization expects an estimated 1,500 members to attend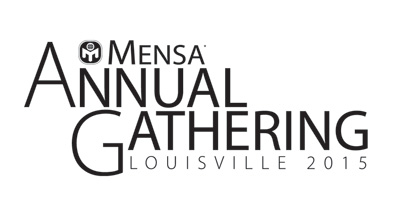 ARLINGTON, TEXAS, June 8th, 2015 — This year the largest international chapter of Mensa will bring its annual event to Kentucky. This five-day event happens every year during the Independence Day holiday and is an opportunity for members of the high I.Q. organization to connect with colleagues and friends. This longtime tradition attracts both national and international members. Last year's event in Boston, Mass., brought in more than $700,000 in hotel revenue. Past gathering destinations have included Fort Worth, Texas; Reno, Nev.; and Orlando, Fla. The event will be in San Diego, Calif., in 2016.
More than 250 lectures and presentations will be featured at this event. Topics include grant writing, toy design, Asperger's, and the challenges of going to space. The Gathering is closed to those who are not members of Mensa. However, the public is invited to participate in the American Mensa testing sessions. These testing sessions allow test takers to experience the official Mensa Admission test battery and discover whether they qualify for membership into the largest high I.Q. organization in the world. Plus, all test takers will receive a one-day admission to the 2015 Mensa Annual Gathering. Test sessions are scheduled for Wednesday, July 1, and Saturday, July 4. For current information on the event, including test sessions, please visit at ag.us.mensa.org.
# # #
American Mensa is an organization open to anyone who scores in the top 2 percent on an accepted standardized intelligence test. Mensa has more than 50,000 members in the United States and more than 130,000 members globally. For more information about American Mensa, visit americanmensa.org or call (817) 607-0060.