Mensa Announces Biennial Prize for Discoveries in Intelligence, Creativity
ARLINGTON, TEXAS (Dec. 15, 2016) — The high-IQ society American Mensa will recognize and reward breakthroughs in the studies of intelligence and creativity with a new biennial award of $10,000.
The organization's philanthropic arm, the Mensa Education & Research Foundation, announced today the creation of the Mensa Foundation Prize to be awarded every other year starting in 2017 for the best scientific discovery in the fields of intelligence or creativity. The prize amount is expected to increase in subsequent years.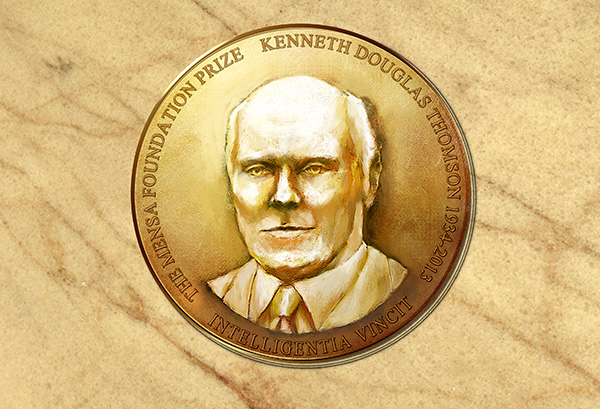 The award will recognize both applied and fundamental discoveries in areas such as brain-related research, creation of tools and mechanisms for advancing such research, or any significant research that leads to an improved understanding of human intelligence, including artificial intelligence. Discoveries must be documented in a major peer-reviewed scientific journal to earn consideration, and nominees will be asked to provide supporting evidence.
Nominations for the Mensa Foundation Prize can be made now until March 1. An application and prize guidelines can be found at MensaFoundation.org/FoundationPrize. The inaugural selection, made by a committee that includes accomplished Mensans and even a Nobel Laureate, will be announced in the summer of 2017. Neither nominees nor nominators need to be members of Mensa in order to participate.
The Mensa Foundation Prize is endowed by the estate of Kenneth Douglas Thomson (1934-2013), a longtime Mensa member from California. A Mensan for nearly 50 years, Thomson valued the organization as much as he valued intelligence and learning.
With more than 57,000 members, American Mensa is the largest national Mensa operating under the auspices of Mensa International, Ltd. There are currently more than 100,000 members worldwide, and an estimated 6 million Americans are eligible for Mensa membership.
# # #
The Mensa Foundation is a 501(c)(3) charitable organization focused on intelligence and giftedness in the community at large. It's mission supports two of the three stated purposes shared by all Mensa organizations, to identify and foster intelligence for the benefit of humanity and to encourage research into the nature, characteristics, and uses of intelligence. The Mensa Foundation pursues these goals, in partnership with American Mensa and/or Mensa International where appropriate, with resources donated by Mensans and non-Mensans alike and aspire to use the intelligence of Mensans and non-Mensans to make the world a better place. For more information about the Mensa Foundation, visit mensafoundation.org or call (817) 607-5577.