Mensa Welcomes Its First Robo-member
As Robotics Week boots up, Artie shows the value of coding and creativity
ARLINGTON, TEXAS, April 8, 2019 — American Mensa welcomes its first robot member. Artie 3000™, a drawing robot from Educational Insights who helps kids learn to code, was named an honorary member of the high-IQ society.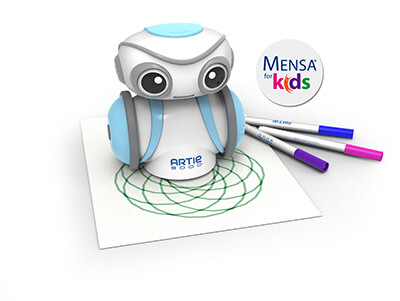 "American Mensa and the Mensa Foundation value the importance of coding and STEM-related education," said Trevor Mitchell, Executive Director of American Mensa. "We fell in love with Artie's unique ability to develop these skills but through artistic expression."
Artie is the first robot and only the third fictional character to receive an honorary Mensa membership card, joining Lisa Simpson from The Simpsons and Mr. Peabody from the animated film Mr. Peabody & Sherman. As the first robo-member of Mensa, Artie boasts 16 languages and his own Wi-Fi and remote control. Take that, HAL 9000!
Artie joins Mensa at a time of growing emphasis on STEM education and robotics. The 10th annual National Robotics Week is under way, and the Toy Association's Decoding STEM/STEAM report has determined that toys play a crucial role in teaching STEAM concepts to kids by helping them develop competencies through play.
A recent survey, conducted by Educational Insights and American Mensa, found that 96 percent of parents believe coding principles will help kids regardless of their future career paths. The finding accentuates why Mensa is partnering with Educational Insights to help make coding approachable for every child, from Mensans to kids who simply love to draw. The collaboration includes free activity and lesson plans, perfect for educators and parents alike and available soon on MensaForKids.org.
Artie was recently featured at the 2019 Consumer Electronics Show in Las Vegas and at Toy Fair New York. Designed for kids ages 7-12 and retailing at $69.99, the learning toy is available for purchase at EducationalInsights.com.
# # #
American Mensa is an organization open to anyone who scores in the top 2 percent on an accepted standardized intelligence test. Mensa has more than 50,000 members in the United States and more than 130,000 members globally. For more information about American Mensa, visit americanmensa.org or call (817) 607-0060.
Educational Insights, based in Southern California, is the creator of award-winning toys and games backed by a playful promise to provide new experiences that ignite passion and fuel kid creativity and imagination. For more than 50 years, its toys and games have helped kids around the world embrace their originality, celebrate their differences, and pursue their very best selves. Learn more at EducationalInsights.com.