American Mensa Kicks Off Annual Membership Month October 1
ARLINGTON, TEXAS, October 1, 2018 — The high IQ organization American Mensa kicks off its annual Membership Month today, celebrating its passionate member community and the anniversary of the organization's founding on Sept. 30, 1960. The month of October celebrates American Mensa's growth to more than 50,000 members, the largest of any national Mensa within Mensa International, Ltd.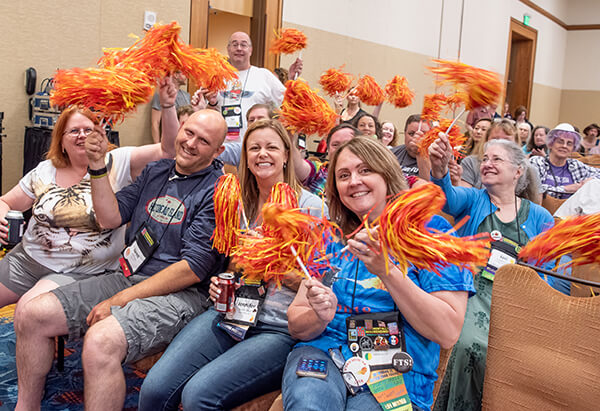 "At American Mensa, we're really about connecting smart people for intellectual and social purposes," said Executive Director Trevor Mitchell. "We are committed to providing a stimulating intellectual and social environment for members to explore their interests, and we are excited to celebrate them individually and collectively during Membership Month."
Members qualified for Mensa by scoring in the top 2 percent of the general population on a standardized intelligence test. (Besides its Admission Test, Mensa accepts up to 200 different standardized tests.) An estimated 6 million Americans — 1 in 50 — qualify, and a series of opportunities in October will help them join.
The one trait binding Mensa members is high intelligence. Beyond that, it's a rich melting pot, with members who are young (2) and not so young (102) and including everyone from engineers, homemakers, teachers, actors, students — maybe even your next-door neighbor. Two members worth meeting are Natalie Hampton, a freshman at Stanford University recognized as one of "25 Women Changing the World in 2017" by People magazine for her anti-bullying mobile app, and 10-year-old Mike Wimmer from Salisbury, North Carolina, who began his freshman year of high school this fall and has spent the past three summers advancing his knowledge of programming and robotics at university STEM camps.
"American Mensa has been an incredible resource for me and my parents, offering constant support, a welcoming community, and exciting opportunities throughout my education," said Mike Wimmer. "I still remember how awesome I felt and how proud my parents were when I received my Mensa membership just after my 4th birthday and am excited to continue to grow with the organization and inspire other kids like me. Mensa isn't just for adults — it's a great organization for kids of all ages, too."
For those wondering if they are "Mensa material," potential members are encouraged to sign up for a practice test or for one of the supervised testing sessions throughout the country. American Mensa will run several testing promotions throughout the month of October. Supervised testing is discounted 50% to $30, and on Oct. 23, the Mensa Practice Test will be offered at $10.23 in honor of Mole Day, annually commemorating Avogadro's Number (6.02 x 1023), a basic measuring unit in chemistry (but you knew that already, right?).
To learn more, please visit americanmensa.org and follow on Facebook, Twitter, and Instagram.
# # #
American Mensa is an organization open to anyone who scores in the top 2 percent on an accepted standardized intelligence test. Mensa has more than 50,000 members in the United States and more than 130,000 members globally. For more information about American Mensa, visit americanmensa.org or call (817) 607-0060.