Charlie Steinhice, Director of Science & Education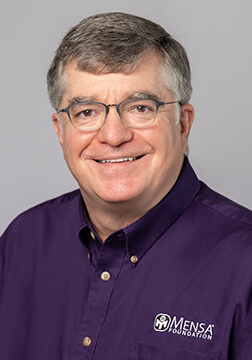 Charlie Steinhice, a lifelong resident of Chattanooga, Tenn., and Mensa member for more than 20 years, was appointed AMC Director of Science & Education in 2020. He joined the Mensa Foundation Board of Trustees in 2016 and currently serves as President.
Charlie is a Business Analytics Manager of Internal Strategic Analytics & Reporting at BlueCross BlueShield of Tennessee. Outside of work, he serves Chattanooga Mensa as a certified Proctor and Scholarship Chair. He's an active volunteer for the Pancreatic Cancer Action Network, for whom he is the current Chair for the Chattanooga affiliate and a longtime volunteer advocate. He also has served as chairman of the Chattanooga Neighborhood Network and on the Chattanooga Public Library's board of directors.
A former reference librarian, Charlie has a master's in library and information science from the University of Tennessee and a graduate certificate in biomedical informatics from the University of Tennessee at Chattanooga, where he also earned a bachelor's in history. For 17 years he served as coach of UTC's Quizbowl team, a logical role for a former Jeopardy! contestant who is "interested in everything." (For the record, he lost on Jeopardy! but won redemption as a successful two-time "phone-a-friend" on Who Wants to Be a Millionaire?)